Required Subscription Add-On: Real Time Dashboard Services
Required Permissions Level: Report & Dashboard Creator
Brightmetrics Real-Time Dashboards Service provides organizations within the moment with common operational pictures that enable managers and all team members to make better-informed decisions and adjust work to align with organizational goals. With the latest release, we've extended even further the value of these common perspectives by providing Real Time Ticker: a scrolling ticker messaging feature that can be configured on ANY of your dashboards (Real Time or otherwise). This feature can be used to immediately broadcast, via the dashboard, a variety of messages such as what "today's coupon code" may be for agents to use, or encouragement for the team in their work towards goals, acknowledgment of high performers, or even birthday greetings or welcomes for new team members.
The flexibility of the Real Time Ticker allows you to update these messages, once the dashboard has been enabled via SMS so the management team has the ability to adjust or change messaging while on the move and even use their creative side through incorporating Emojis.
***Again, if you have Real Time Dashboard Services, you can configure a ticker on ANY of your dashboards, regardless of whether it is enabled with a Real-Time data source chart or perspective... and the ticker does not make a dashboard count against your Real Time Dashboard subscription level if the chart doesn't have Real Time elements on it***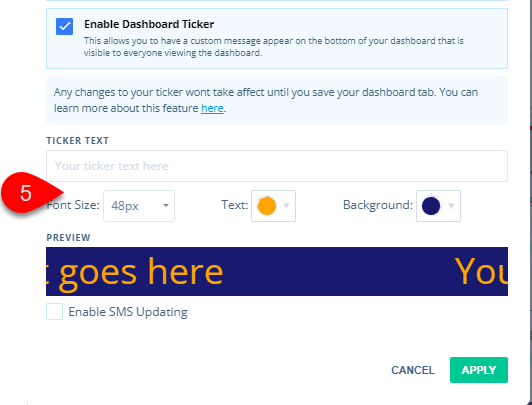 Please note; if you are a UK customer, you can use +44 7830 314050.
PRO Tip: An easy way to update using SMS is by copying and pasting from a text message into the ticker.