Required Subscription: Any

Required Permission Level: Any
When you're building out reports there may be some specific things you want to see, whether that's the roll-up numbers for a period of time which would be summary data, or getting down into the weeds of each individual interaction, which would be detail data. That's where the difference between detail and summary reports comes into play in a big way. See below on the differences between these two perspectives in reporting and how you can use each one to get the exact data you are looking for in different reports.
What's the difference between Summary and Detail data?
Summary Data
Stored in the cloud
Updates hourly
Preaggregated, allowing the data to generate quickly for you - typically in under a second
High level - contains counts, time metrics for all data with totals for the summarized view
Detail Data
Not stored within Brightmetrics and queried via encrypted connection when you request it
Up to date data based on what's currently logged to your database
Amount of time to pull depends on the number of filters applied and time range selected
Granular view - contains a row for each interaction with metrics for each interaction broken out
Which report should I use?
Agent Metrics and Interaction Details: Agent Activity

The Agent Activity data set is used for the Agent Metrics and Interaction Details reports. The reports can show you call data for each agent in your organization.
The Agent Metrics report will show you the high-level view containing total counts for each agent. You can also pull in dimensions to see the outcome of the interactions (Outcome) or if the interactions were transferred to another party (Transfer Destination). By clicking on the green "+" icons, you can drill into the details for those interactions.
Example: Pulling summary information for a specific agent will show you a count of their interactions on a daily basis during the time period that is being reported on: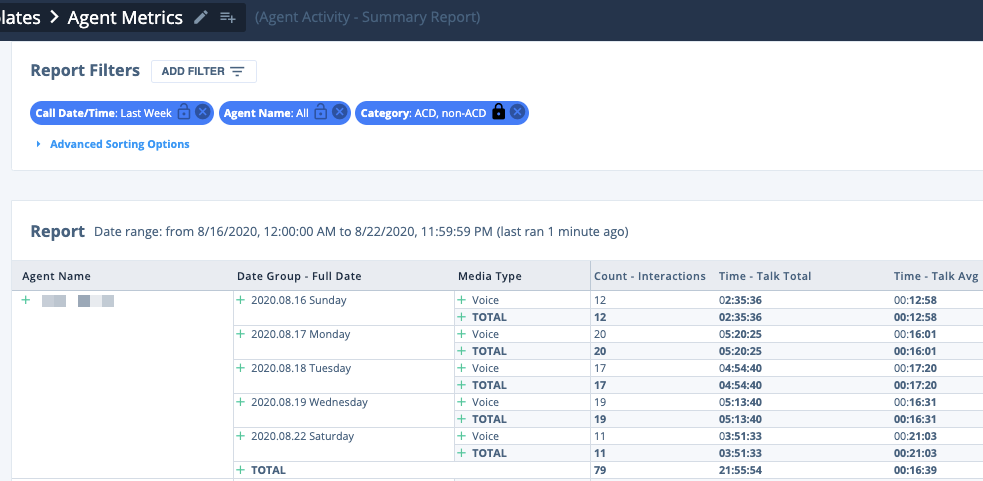 The Interaction Details report gives you a breakout of all the interactions contained in the summary report and lists a row for each interaction. This allows you to see things like Category, Queue Name, and Wrap Up Code. By clicking on an interaction, you can access the Cradle to Grave report.
Example: We can run the detail report or drill into the Agent Metrics summary report to see individual interactions and the details for each interaction:
We hope these examples of how summary versus detail data reports can be used are helpful.
Questions or feedback? Please email us at support@brightmetrics.com.