Required Subscription: Core Module
Required Permissions Level: Dashboard and Reports Creator
In our article, Scheduling Reports
, we walked you through saving your custom reports. We also showed you how to set up schedules in order to have these reports emailed out. Once you've saved a report and created an email delivery schedule, you may need to later modify that schedule. Reasons may include:
Adding or removing recipients

Adjusting the filters e.g. exclud

ing

specific agents, including specific agents, etc.
Note
:
Unless you are an Administrator on the account
, you can only update schedules YOU have previously set up; If you receive an emailed report someone else has set up, the report schedule owner is indicated
in
the header information of the attached report
(Excel,
PDF); you'll need to ask the user displayed there to adjust their schedule or
t
ransfer
owner
ship
of the schedule
to you
if changes need to be made. As an Administrator, you can view and edit any schedule by accessing the Schedules tab as shown at the bottom of this page.
To update an existing report schedule you've set up, follow the steps outlined below.
In the Sidebar Menu,

c

lick on Reports

Select

the

Saved Reports

toggle

Click the three

dots to the right of the report you want to edit a schedule for. You'll also see a clock icon here indicating there's an existing schedule.

Click on

Send/Schedule to get a popup showing the schedules
In the popup, click the pencil icon next to the schedule you'd like to edit. Once you've made changes to the schedule, click Apply at the bottom to save the changes.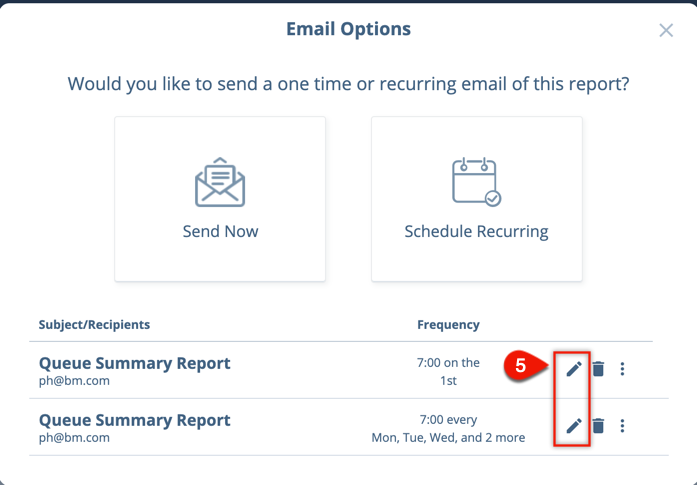 Pro Tip:
If there are
additional filters
that you would like applied to the schedule beyond those already listed next to Filter Choices,
you will need to add those fields as a filter within the Saved Report
and then those filters are carried over onto the Schedule Entry page for you to modify.
If you are an Administrator on the account, you can see and edit all schedules for all reports via the
Administrator Tools
page, as shown below.
In the Sidebar Menu, click on Administrator Tools
At the top of the page, select the Schedules tab
Choose to view by User or Recipient

Click the pencil

icon to the right of the schedule you want to edit. Make sure to click Apply on the popup you make your changes on in order to save the edit.