Required Subscription: Mitel MVCCC, (ShoreTel ECC)

Required Permission Level: Any

When you are building out reports for your contact center, you may run across a few questions about TASA, STI's and TSF and how they work in your reporting. In this article, we answer some of those questions to help you understand which to use in your reports and dashboards.
What do these terms mean?
TASA (Target Average Speed to Answer) looks at how calls are exiting the queue (being answered, abandoned, etc) and if that is happening within the configured Target Average Speed of Answer (TASA). TASA is configured per group in the Contact Center Director and defaults to 20 seconds.
STI (Service Time Interval) identifies while pre-configured interval in which the call exited the queue (was answered, abandoned, etc). Service Time Intervals are configured per group in the Contact Center Director (this can be adjusted with your Shoretel/Mitel resource). The defaults are 10-second intervals up to 50 seconds, with the 6th STI representing 50 seconds and above. For example, STI 1 represents calls answered or abandoned within 0-10 seconds, STI 2 within 10-20 seconds, and so forth.
TSF (Target Service Factor) is the percentage of calls answered within TASA vs all calls answered and calls abandoned after TASA. Formally: SUM(Calls answered within TASA) / (SUM(Calls Answered) + SUM(Calls abandoned after TASA)). Calls answered within TASA only counts calls answered *in this group*, whereas the total number of calls answered includes calls answered after TASA *by any group*.
How can these fields be useful?
Since TASA and TSF are looking at the group data, you can use these metrics to keep your numbers in check and to ensure that customers aren't waiting in the queue for long periods of time. While the default for TASA is set to 20 seconds this can vary greatly depending on the specific group and if your customers are used to shorter or longer wait times, you may wish to adjust your TASA as shown: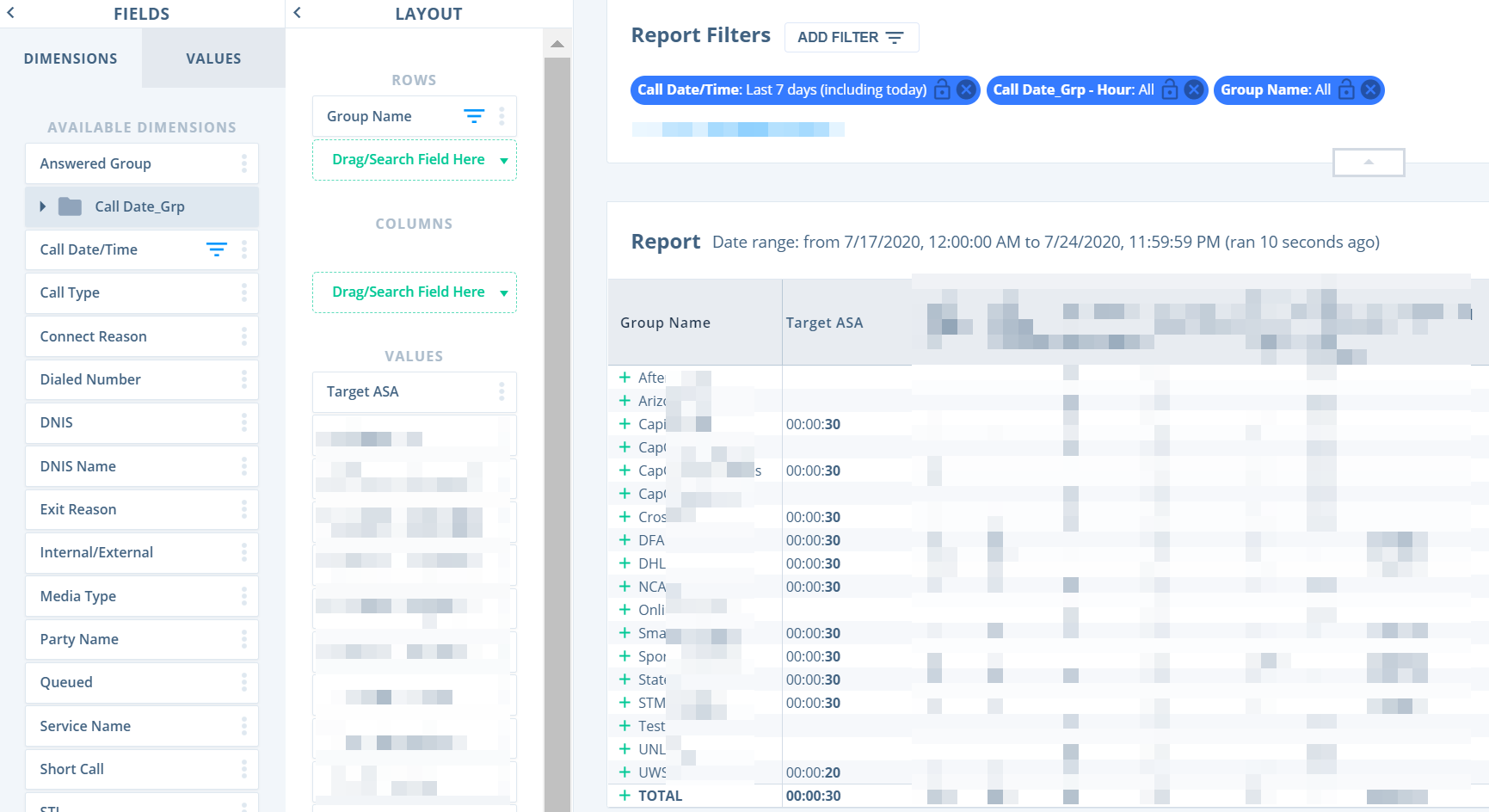 Or you can add both the Target ASA field and the TSF of the group field to your report to see what percent are being handled in that Target ASA:


STIs look at what happens in each of the intervals of time. An easy way to think about these is "Of the calls that reached said STI what happened to them?" We often see customers using the STI dimension along with things like Exit Reason and Call Type to see what kind of calls are coming into their contact center but then also how they are ending or exiting the queue in each of those intervals like this: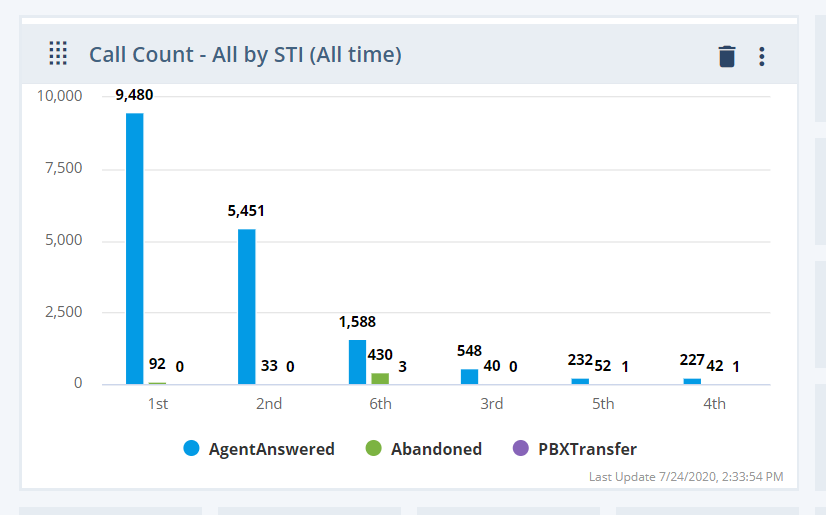 This should give you some ideas on ways to report on STIs, TASA, and TSF.
For a full list of Brightmetrics fields and their definitions, please visit our Data Definitions Page.
Questions or feedback? Please email us at support@brightmetrics.com.